The Best Natural Beauty Product – Nanoil Jojoba Oil
Jojoba: unusual fluid wax which is actually an oil. It is a cosmetic giving amazing results really quickly. How to purchase the best natural jojoba oil for beauty purposes? Reach for organic certified pure Nanoil Jojoba Oil – ideal for all skin types, as well as for body and hair. Use it solo or add to face creams, hair conditioners, body lotions. Do it to enjoy the best skin and hair care tailored to your needs.
What makes 100% Nanoil Jojoba Oil the best?
Contrary to other commercially-available oils, Jojoba Oil by Nanoil has the finest quality and is extracted from certified organic material. Nanoil Jojoba Oil equals:
natural oil obtained through cold-pressing
not refined, 100% organic oil
the highest quality
jojoba oil with Ecocert mark
preservation of all vitamins, fatty acids and other active ingredients
pure essence of what's best in jojoba seeds
dark glass bottle protecting the oil against damage and going rancid
zero SLS, parabens, colorants, mineral oils, paraffin oils, silicones, PEG and gluten
What beauty problems will jojoba oil help you solve? Nanoil Jojoba Oil – purpose
Jojoba Oil is ideal for: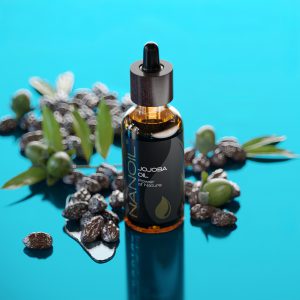 Body-Face-Hair-Hands-Feet-Nails
Jojoba oil suits all skin types, including oily, acne-prone, combination and aging skin. It's an effective oil to handle first wrinkles, dry skin and excess of sebum.
Jojoba oil enhances all hair types, including oily, thinning, weak and normal hair. It fights dandruff, scalp eczema, dull shade, lack of moisture.
Effects & qualities of Nanoil Jojoba Oil
brilliantly moisturizes and protects, locks water in
strongly nourishes, smoothes, softens skin and hair
repairs and revitalizes hair and skin, fights dehydration
it is lightweight, quickly absorbed, it doesn't leave skin or hair weighed-down
purifies and conditions scalp
prevents hair loss
balances sebum secretion and eliminates oiliness
takes care of delicate under-eye skin, smoothes facial lines
conditions hands, feet, nail plates and cuticles
protects hair ends, increases shine and boosts elasticity
has antibacterial effect
it is perfect for antiaging skin and hair care routine

How to use Nanoil Jojoba Oil?
Solo as facial serum or body elixir (applied directly to skin, hair, nails).
As ingredient in DIY beauty products.
For baby, kids and pregnant women's skin care.
As addition to scrubs, hair conditioners and body creams.
As a makeup base which primes skin for makeup products.
As a massage oil, use it solo or mix with essential oils.
As ingredient in cosmetics for sensitive, allergy-prone skin, atopic dermatitis, psoriasis.
In aromatherapy to make products last longer.
For OCM (Oil Cleansing Method).
As a base for handmade perfume.
As ingredient in repairing, nourishing baths (body, feet, hands).
As intensive home hair oil treatment, compress, serum for hair ends.
As natural shaving and after-shave product.
As eye serum (revitalizing and smoothing wrinkles).
As nail and cuticle conditioner.
As beard and moustache oil.
Where to buy good jojoba oil?
This popular question finally has a good answer. It's Nanoil – pure finest-quality jojoba oil. There are lots of oil treatments which contain just trace amounts of other, cheaper oils or include silicones too. Ideally, choose an oil which is all-natural – it is the best investment bringing you maximum beauty benefits. Get jojoba oil which gets the best reviews online and is unrefined, organic, cold-pressed – Nanoil Jojoba Oil.